FENSTERBAU FRONTALE Newsroom
Network with FENSTERBAU FRONTALE in social media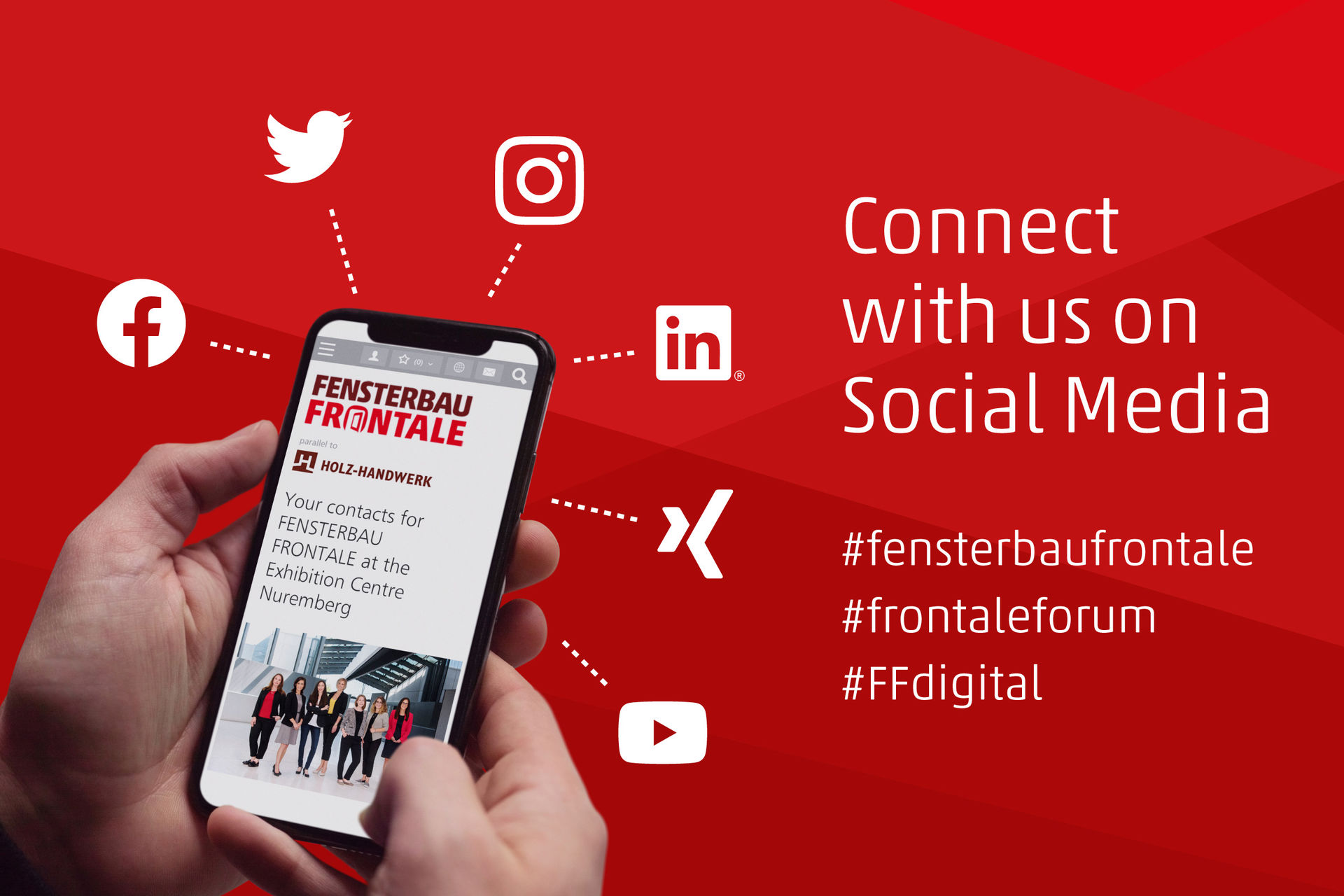 Network with us on social media and receive the latest news about FENSTERBAU FRONTALE.
Facebook Page 
@fensterbaufrontale
Follow the FENSTERBAU FRONTALE page with your company or privately and receive all information about the fair, our exhibitors and partners. Depending on your personal settings, our contributions will be displayed in German or English. 
 Click on "Going" in our Facebook event and don't miss out on travel and accommodation information, news about the supporting programme and useful tips for your participation in the event.
Twitter
@fensterbau
On the news platform Twitter you will be the first to hear news: information about the event, exciting industry news and reading recommendations for further articles from the international window, door and facade market.
Instagram
@fensterbaufrontale
On our Instagram channel we take you behind the scenes: Here you can take a look at the preparations for the world's leading trade fair, accompany us on our travels and get to know our team members in interviews.
In addition to impressions of the trade fair events, you can also view the recordings of the forums on the YouTube channel of FENSTERBAU FRONTALE with detailed specialist presentations, panel discussions and short keynote speeches on specific topics.
Our XING Event provides you with the most important information for your trade fair participation at a glance (in German).
Use the guest list to network with other participants and invite your business partners and contacts.
On LinkedIn you can read our English industry information and technical articles directly on the FENSTERBAU FRONTALE page, without having to leave the platform. In addition, we inform you not only about the most important announcements for the next FENSTERBAU FRONTALE in Nuremberg, but also about the international activities within the framework of FENSTERBAU World. 
Exclusively for exhibitors: XING Group & LinkedIn Group
We cordially invite all exhibitors to join our groups on XING (German-speaking) and LinkedIn (English-speaking) for personal networking and dialogue with the FENSTERBAU FRONTALE team and the other group members.
We will also be happy to support you in your preparations for participation in the trade fair, answer frequently asked questions and keep you informed about all important deadlines.
Official Hashtags
You would like to share your posts with our community? Then simply use the following event hashtags:
#fensterbaufrontale
#frontaleforum
#FFdigital
By the way: You can also tag the official profiles of FENSTERBAU FRONTALE in your posts.
We are looking forward to the exchange with you!
PS: Do you already know the free FENSTERBAU FRONTALE app for iOS and Android?  There you can create a personal watch list for exhibitors, products and events, which you will find in your individual hall overview with all favourites marked for easy orientation on the exhibition grounds.  Appointments are transferred to your smartphone calendar and you receive push notifications for changes affecting your watch list.  All content is available offline at any time.