FENSTERBAU FRONTALE Newsroom
Adhesives in window construction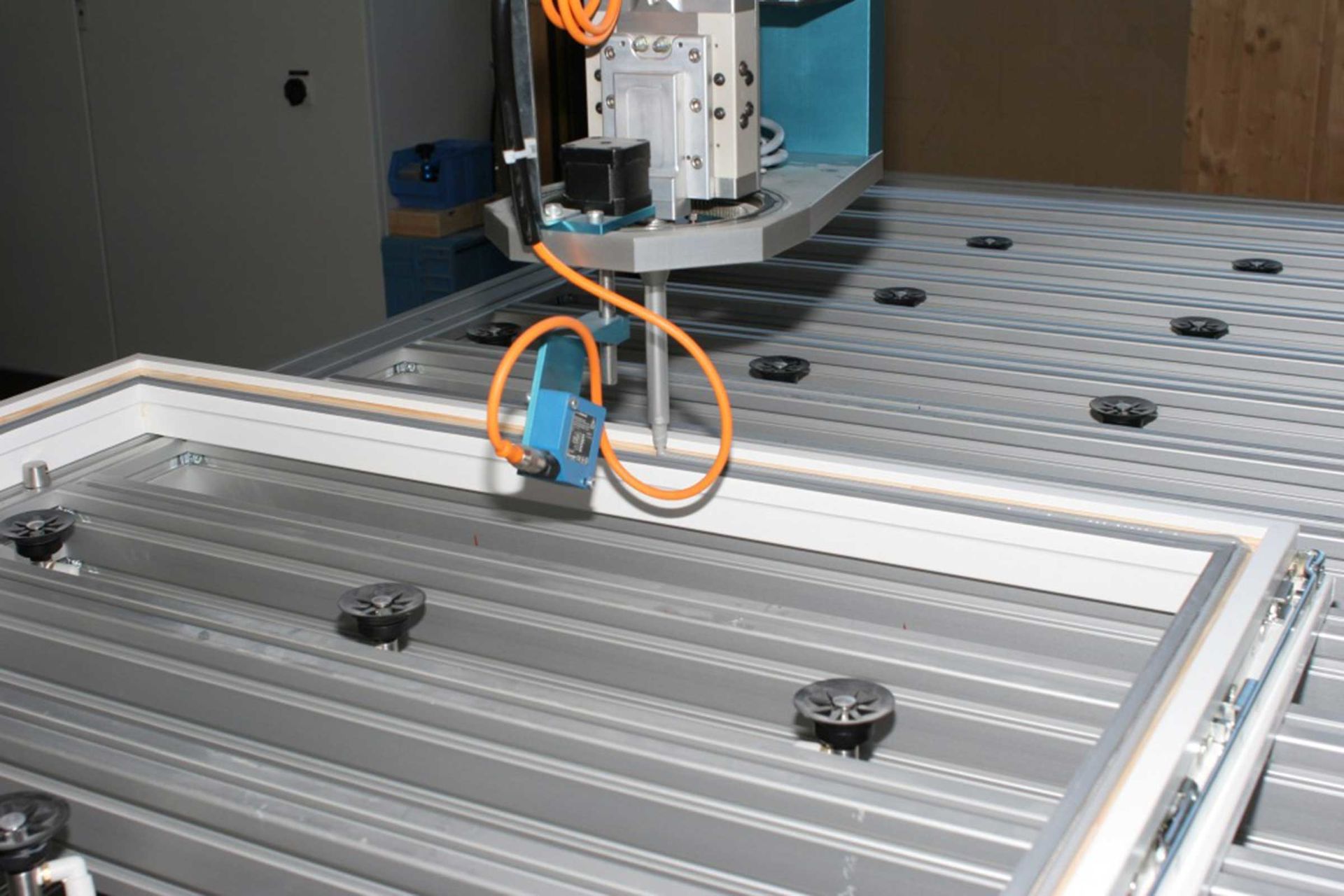 Some people still find it unusual, but gluing the glazing into the window sash is perfectly normal for many industry leaders:. The latest development is a new guideline from ift Rosenheim, which was presented at this year's FENSTERBAU FRONTALE. It documents a specific procedure for gluing coated wood surfaces, with input from industry partners Otto Chemie (adhesives and sealants), Remmers (wood stains and varnishes) and Lohmann (adhesive tape technology).
Günther Weinbacher, project manager for glued façades and head of training at Otto-Chemie, comments, "This evidence now gives installers the ability to fit glued glazing into coated wood safely and cleanly." Paul Kemmel, application engineer at Lohmann, also observes: "Using a specially developed adhesive tape is enough to qualify for RC2 security certification, and the additional use of a 2K silicone adhesive and sealant can meet the requirements for RC3."
Karin Lieb, of ift, adds: "The systematic use of glue on coated wood surfaces optimises the manufacturing process for wooden window manufacturers, since the certified interaction between the adhesive and the coating system results in a significant time saving. The narrow frame width also means very large glass areas can be made in this way."
Manufacturers of wooden windows were the first
As early as 1997, the Bern University of Applied Sciences – Architecture, Wood and Civil Engineering began investigating ways to optimise wooden windows. Also participating in the study at the time were two manufacturers of wooden and wood-and-aluminium windows, Wenger Fenster and Tschopp-Zwissig. In 2006, Jacques Tschopp commented on the success of his glued windows: "We are increasingly using adhesive technology for standard products and for stepped-edge glazing – and I am also observing this development among other suppliers. With this adhesive technology we not only provide standard windows, but also special products that only a few joiners currently offer." In his view, there is also increasing demand from customers for the benefits of adhesive technology: the glass, glued on the outside, offers protection for the wood, making it more weather-resistant and easier to maintain, even for cleaning. There is no longer any need for the regular maintenance or repainting that would otherwise be necessary. And the gluing process makes it possible to use narrower frames, which means more of the window area can let light through; and finally, the glued frames are also stronger, since the glazing is firmly attached to the frame all around. "The glazing now carries the frame, not the other way around," claimed Swiss adhesive manufacturer Sika as early as 2004 at FENSTERBAU FRONTALE, where glued windows were first seen in a broader context in Germany. The large-format pivot windows from Walch in Austria at the same stand drew a lot of attention.
The initial claims regarding the quality of windows made in this way have been confirmed in the more than ten years that they have been in production, and more and more manufacturers have been won over to the idea of including gluing as part of their manufacturing process. After all, even at that time, the permanent gluing of windows into vehicles and aircraft, and in structural glazing in building façades, was available as a point of reference. And just as in those industries, many machine manufacturers set themselves up to produce the necessary systems for window production. Handy glue guns, fed in some cases from an external tank, are also available on the market, along with semi-automatic and fully automatic systems that place the glass in the frame with robot assistance and autonomously perform the gluing process. Then there are the dosing and mixing systems, which generate great interest at FENSTERBAU FRONTALE. Baumgartner, a leading Swiss manufacturer of wooden and wood/aluminium windows, uses fully automatic processes to make and store its windows in 50,000 m² of warehouse space, and in the coming months will further expand its manufacturing capacity with another new building, which will make it even better able to handle large-scale projects, with a particular focus on high-rise buildings in Switzerland. It claims to have sold one million glued casement windows to date, and can no longer imagine manufacturing without this technology.
Gluing for plastic windows too
Various manufacturers in the plastic window sector have also become converts to the idea of gluing. For example, frame elements have been designed especially for the gluing process by Aluplast, and have been very well received by its customers. High-quality windows made using this process enjoy good market positioning in Germany, Switzerland and Poland.
Internorm, Austria's largest supplier and a European market leader, uses glue in its wood/aluminium system and every one of its plastic windows – a total of 800,000 units a year.
Götz Gegg, a manufacturer of wooden and wood/aluminium windows in Germany, comments: "The practice of gluing window panes in place began in 2003 with the concept behind our new window system. At the time we wondered how we could modify our window design to enable the complete frame to be embedded in the masonry or in the external wall insulation system. We needed a solution we could use to glue window panes in place from the outside, or embed them into the wooden frames from the outside. The adhesive technology gave us a production-ready solution, the Revo system, which met our requirements."
The benefits of the adhesive technology are now being communicated to customers at a quite practical level: gluing enables windows to meet security class RC2, which can otherwise only be achieved using additional structural elements. Some manufacturers of glued plastic windows can also manage without the steel inserts that were previously necessary, since gluing ensures the design is structurally sound even without steel reinforcement (except in particular extra-large formats or special products). Birgit Brand, Managing Director of Fenstertechnik-Brand, a German supplier of plastic windows for mainly private customers, notes: "The gluing process and the associated steel-free manufacture offer numerous benefits, for warehousing, for example. The benefits for dealers and end customers are the reason our product is on the market in the first place. The fact the whole system offers clear improvements for installers is beyond question, as otherwise we would not have opted for gluing at all. We have refined the adhesive technology on a standard basis and tests have confirmed that it makes windows and doors more secure."
It is striking that, in all surveys, manufacturers of glued windows confirm that this technology also improves transportation of the units to the construction site and the loading and unloading process once there, since the greater frame stiffness has noticeably reduced the number of cases of damage in transit.
That sounds like a success Story!