FENSTERBAU FRONTALE Newsroom
"PVC window profiles: A contribution and a blueprint for the Green Deal"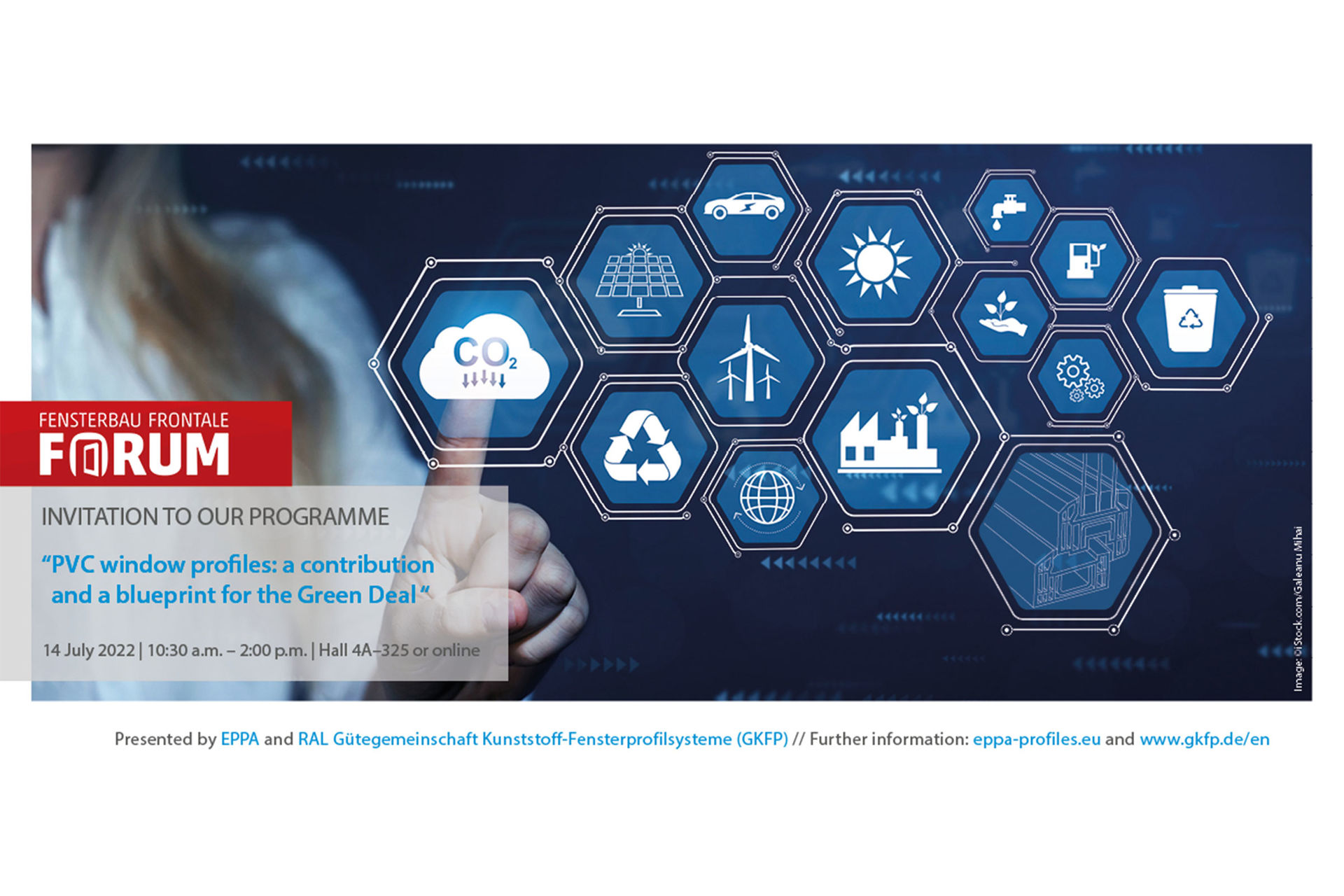 The European trade association of PVC window system suppliers, EPPA, and the Gütegemeinschaft Kunststoff-Fensterprofilsysteme (GKFP) invite you to the FENSTERBAU FRONTALE FORUM in hall 4A – booth 325 on 14 July 2022 from 10:30 to 14:00. The two associations will be holding a half-day presentation block on the subject of "PVC window profiles: A contribution and a blueprint for the Green Deal".
This is what visitors can expect in detail:
10:30: The political context: from the Green Deal to the Circular Plastics Alliance
EPPA Managing Director Charlotte Röber will give an overview of the current political developments in the field of sustainability at European level. A special focus will be put on EPPA's engagement in the various stakeholder groups as well as on the industry's voluntary commitment in the Circular Plastics Alliance.
11:00: Upgrade your living space: modernization with PVC windows
Jürgen Herbe (Head of Public Relations, VEKA AG), Chairman of EPPA's expert group "Communication", reports on how EPPA, GKFP and other national associations support the Europe-wide renovation campaign. The campaign is aimed at planners and window manufacturers, but also at end consumers. The audience will learn about the added value of modernization projects with new PVC windows.
11:30: Thinking in cycles: news from standardization for PVC window profile systems
European standardization has become increasingly important for the European legislator, especially in recent years. As the most important source of technical information and harmonized test methods, standardization has thus become the basis for developments in the field of sustainability and circularity. EPPA Managing Director Charlotte Röber gives an overview of the most important standardization projects.
12:00: Design-for-Recycling for PVC windows – sustainability from the very beginning
How can more recycled plastics be incorporated into new products? To achieve this, design-for-recycling must already take place during product development. To drive this new design approach, EPPA has created a Design-for-Recycling (DfR) guideline that combines the three principles of recycled content, recyclability and product quality. Gerald Feigenbutz, Managing Director of Gütegemeinschaft, will present these in more detail in his presentation.
12:30: RAL warranty mark as reference for RAL quality certification
Who is RAL and what priorities does the umbrella organisation recommend to its quality associations in Germany? RAL Quality Mark Consultant Niklas Neureuther will provide information on this. On the one hand, there is the trademark protection and the associated registration of quality marks as European warranty marks. This also applies to the quality mark for PVC window profile systems. In the other hand, he will focus on the implementation of the Green Deal in quality assurance.
13:00: Latest news in GKFP quality certification
There is a lot going on in national and European quality certification. Topics such as harmonization, Green Deal and quality characteristics as well as sustainable construction products also affect quality assurance for PVC window profile systems. Especially in the European context, the use of synergies and integrated systems will become increasingly important in the future: GKFP Managing Director Gerald Feigenbutz will report on this.
13:30: Prowindo – alliance for PVC windows with regard to energy efficiency, circularity and climate protection in Germany
Götz Schmiedeknecht (Co-CEO Salamander Industrie-Produkte GmbH), representative of the profile system suppliers in the associations, will report on how Prowindo is meeting the challenges, especially with regard to sustainable development. He will give an overview of current projects in Germany on the subject of circular economy, climate protection and affordable housing and draw a coherent picture of the activities of the Prowindo trade associations.
The presentations will be held in German and will also be simultaneously translated into English.
In addition, the event will be streamed live by the fair and also translated into English. Visit the FFconnected website on the day of the event: www.live.frontale.de
Get in touch with EPPA and GKFP – live at Frontale and digitally
As in previous years, EPPA and the GKFP will again be represented with a joint booth at the fair from 12 to 15 July, this time in hall 4A – booth 231, directly opposite the Forum.
Up-to-date information about the two associations can be found online:
https://twitter.com/eppa_profiles