FENSTERBAU FRONTALE Newsroom
New video on the "RAL Quality Mark for PVC-U Window Profile Systems"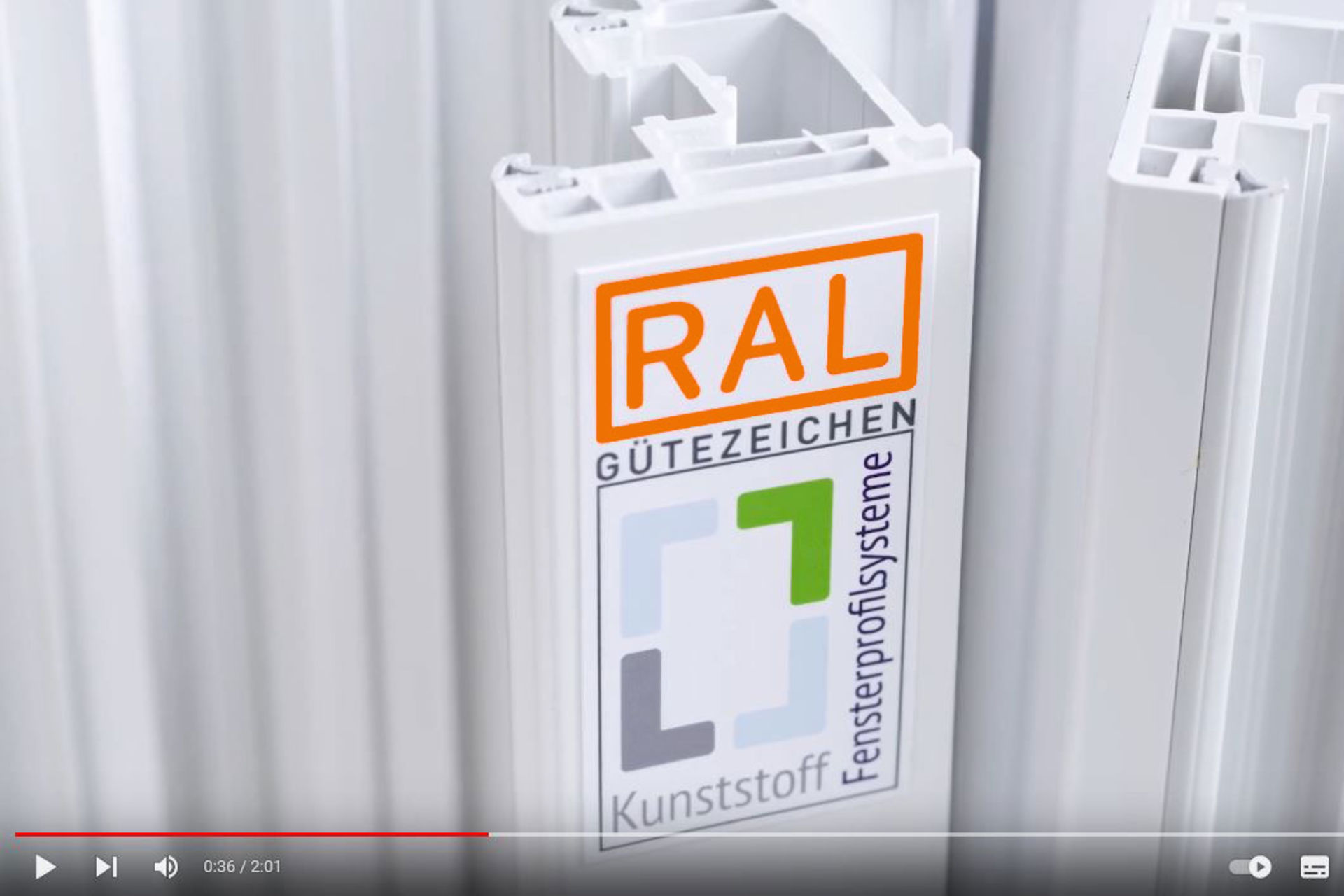 From quality-assured PVC window systems to durable construction products: New video on the "RAL Quality Mark for PVC Window Profile Systems".

Bonn, 18 November 2021 – The RAL Quality Association for PVC Window Profile Systems (GKFP) e.V., together with the umbrella organisation RAL – German Institute for Quality Assurance and Labelling, is publishing a video on the quality mark of the same name. The clip is part of a film series about the various RAL quality marks available on the market.

With the new video of the Quality Association, the target group of end consumers is addressed in particular: With insights into the manufacturing and monitoring process of a PVC window profile as well as with the help of catchy messages, the video makes clear what exactly the RAL Quality Mark PVC Window Profile Systems stands for.

Requirements for the RAL Quality Mark
Gerald Feigenbutz, managing director and ambassador of the RAL Quality Association explains in the video which requirements have to be fulfilled in order to end up with a durable construction product, especially which quality features have to be fulfilled in order for the profile system to be allowed to bear a RAL Quality Mark.

"The essential element of RAL Quality Assurance is the inspection by external experts who go to the factories and check all processes and the product there," Feigenbutz continues. In addition to the quality and durability of the PVC window systems, it is the recycling of old windows that creates the conditions for a sustainable construction product.

RAL-GZ 716 as a benchmark
The quality and testing regulations for PVC window profile systems, the RAL-GZ 716, are decisive for production and monitoring. They represent the state of the art on 300 pages and contain all requirements that must be fulfilled for the quality mark. In this respect, RAL GZ-716 goes beyond standards and is constantly being revized.

We would like to thank RAL, the film team Brandit and Veka AG for their support in the realization.

You can find the finished video on the GKFP YouTube channel, also with English subtitles. Feel free to share it and recommend it to others: youtu.be/6TL5MtHVjAk

More information on the digital event series can be found at: www.gkfp.de/en/events
Press contact
Qualitätsverband Kunststofferzeugnisse e.V.
Claudia Könsgen
Am Hofgarten 1–2, 53113 Bonn (Germany)
Tel: +49 228 766 76 55
E-Mail: presse@qke-bonn.de | Website: qke-bonn.de

About us
The RAL Gütegemeinschaft Kunststoff-Fensterprofilsysteme e.V. (Quality Association for PVC Window Profile Systems) (GKFP) awards the RAL Quality Mark to member companies that fulfil the rules of the RAL-GZ 716 quality and test specifications. The aim is to comply with the highest quality requirements in order to ensure that the products manufactured are suitable for long-term use. The members of the association consist of system houses, manufacturers of seals, raw materials, foils, adhesive systems, seals and machines as well as contract laminators. gkfp.de/en